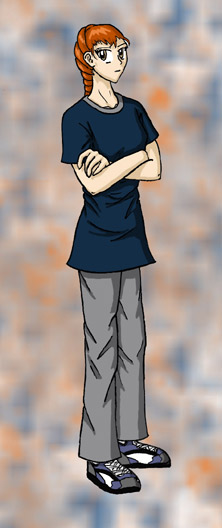 Real Life Counterpart Quote: ". . ."
Name:

Diedre Keith

Age:

16

Height:

5'7"

Weight:

*dark stare*

Hair:

Reddish

Eyes:

Hazel

Clothing Choice:

Darker colors, sweat pants, and large t-shirts

Likes:

Science, math, things following the laws of physics, school, obeying the law.

Dislikes:

Anything out of reality or that doesn't follow the laws of physics, annoying people, fashion, and things/people that don't follow the law.

Major:

Human Biology

Personality:

Diedre is, if possible, even more sarcastic than Jane. She can put up with a bit more from dumb people than Jane (who generally won't put up with more that two seconds' worth), but reacts more viciously if pressed harder. She can be a bit of a pessimist sometimes, but tries to look out for other people. ("Really, it's for your own good, you know.")
She really just wants to graduate with a regular degree, but is frustrated with the weirdness of Nowhere. She is a classified genius, but doesn't like to broadcast it, as it attracts attention. She skipped a few grades in school, resulting in the fact that she now has to go to whatever college her parents send her to (she's still a minor, after all), and resents the fact greatly.

Artist's Comments:

Diedre is the physical manifestation of her real life counterpart's sarcastic side. She can be bitter, vicious, and even vengeful, but despite all this, she does have a lighter side.
The girl she's based on designed a lot of Diedre's character, and chose to have Diedre recoil from the idea of magic, despite her own personal liking for science fiction and fantasy. Diedre may have changed from the original concept design, but if she did, she did it behind my back.