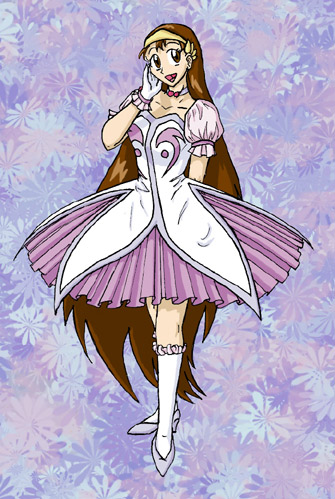 Real Life Counterpart Quote: "Ano . . . ?" ("Um . . . ?")
Name:

Elizabeth "Himeno"

Age:

20

Height:

5'4"

Weight:

Sore wa himitsu desu! (direct quote from Xellos, from the Slayers anime)

Hair:

Medium brown

Eyes:

Brown

Clothing Choice:

Dresses and blouses with skirts…or magical girl cosplay costumes.

Likes:

Shoujo (girls') anime (specifically the mahou shoujo type--magical girl), pink, skirts, her loooooong hair, cute things, talking, and transformation scenes of any type.

Dislikes:

Scary and disgusting things, pants, onions, patience, spicy things.

Major:

Undisclosed

Personality:

Himeno is probably the most cheerful of the girls, to the point of being perpetually happy. She loves cute things and can sometimes come off as ditzy, only to turn around and display a surprisingly cunning mind (which sometimes makes others wonder how much of it is real and how much is an act). She always looks out for people, and hardly anything can get her to frown. She is obsessed with magical girl anime to a fault, and often gets real life mixed up with various storylines.

Artist's Comments:

Himeno is freakily close to her real life counterpart. I mean it—the girl she's based off of would be just that obsessed, if she could get the time and money to cosplay. She knows the entire history of magical girl anime, and has at least one fansubbed episode from a good chunk of every mahou shoujo series. She's not as ditzy as Himeno can manage, but she can be just as hyper and happy.