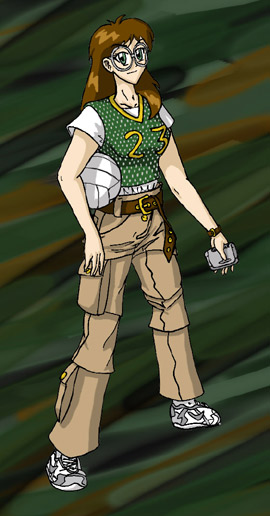 Real Life Counterpart Quote: "She's cooler than I am!" (said at least twice daily)
Name:

Jane Tremayne

Age:

18

Height:

5'9"

Weight:

Don't ask unless you wanna get hurt

Hair:

Medium Brown

Eyes:

Green

Clothing Choice:

Sporty stuff

Likes:

Sports, games, video games, competitions, P.E.

Dislikes:

Stupid and/or annoying people, and math.

Major:

English

Personality:

Usually pretty cheerful and energetic. Can get somewhat sarcastic and doesn't tolerate stupid people very well. Don't get on her bad side. She is over-obsessive with anything game-related, and can be highly competitive. Jane is one of few people who knew anything about Nowhere before arriving. She follows sports teams religiously, and can often be seen going to games.

Artist's Comments:

Jane is more different from her original concept than any other character. She just seemed to take a life of her own the second she was given one. Kinda annoying, but let's see YOU try to argue with her. Anyways, the two of us managed to strike an agreement…she will behave and be nice sometimes, if I let her pound on stupid people. Like I said, very different from the original, which was a whole lot calmer. Occasionally you will see hints of the first Jane, but that's usually when she is in a better mood.
By the way, that's a Nintendo Gameboy DS that Jane is holding in the picture. She likes to stay on top of the latest gaming technology.